Cazenovia — Following the removal and replanting of 11 trees under power lines along Lincklaen Street this past spring, National Grid recently presented the village of Cazenovia with $550. The funds were given through the company's "10,000 Trees and Growing" program, awarding $50 for each qualifying tree that was correctly planted under existing power lines.
Deputy Mayor Amy Mann, the village's tree commissioner, accepted a check from Brian Skinner and Jim Maloney, from National Grid's forestry division, on Dec. 5.
"On behalf of National Grid, we are pleased to help support the recent efforts of the village [tree commission] in their progress to increase the community tree population by using the 'right-tree-right place' selection methods. This helps both the community and National Grid in avoiding some of the tree and line conflicts that have resulted over years-past with selections that needed to be periodically pruned and can often be the causes of line outages, interrupting customer service," said Skinner, a senior arborist at National Grid's central division. "By utilizing appropriate lower growing species where there are overhead lines present, we can avoid or minimize future tree pruning requirements and the associated costs that are involved."
The village first enrolled in the 10,000 Trees and Growing program in 2009, and Mann said this year has been the most successful to date. Through the program, municipalities can apply for reimbursement for the responsible planting of new trees. To be eligible, plantings must meet specific guidelines regarding location and species, designed to protect utility infrastructure.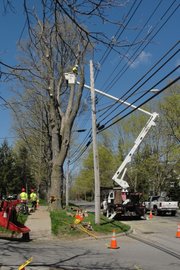 After the Village Tree Commission determined the status of 11 over-mature sugar maples on Lincklaen Street earlier this year, National Grid decided it was in residents' best interests to replace the trees. The removal efforts initially concerned some residents, however working closely with National Grid, the commission promptly planted 11 new species, including river birch, paperbark maple, ornamental pear, hornbeam, cornelian cherry and crabapple.
(Continued on Next Page)
Prev Next
Vote on this Story by clicking on the Icon