Skaneateles — Skaneateles Town Supervisor Terri Roney has sent a letter to the Syracuse City Water Department urging them to keep the levels of Skaneateles Lake low to avoid the flooding and personal property damage that occurred to lakeside residents this past spring.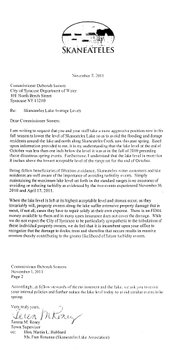 More than one month after sending the letter to water department Commissioner Deborah Summers, Roney has received no response, she told the Skaneateles Town Board at its Dec. 1 meeting.
Roney's letter, dated Nov. 7, 2011, a copy of which she provided to the Skaneateles Press, urged Somers and her staff to "take a more aggressive position now in this fall season to lower the level of Skaneateles lake so as to avoid the flooding and damage residents around the lake and north along Skaneateles Creek saw this past spring."
The lake level at the end of October this year was less than one inch lower than it was at the same time in 2010, and the lake level is eight inches above the lowest acceptable level of the range set for the end of October, Roney stated.
"When the lake level is left at its highest acceptable level and storms occur, as they invariably will, property owners along the lake suffer extensive property damage that in most, if not all, cases they have to repair solely at their own expense. There is no FEMA money available to them and in many cases insurance does not cover the damage," Roney wrote.
While the town of Skaneateles recognizes that the city water department is not concerned with individual property owner's problems, dock damage and land erosion caused by flooding should be a concern to the city, Roney wrote.
"Accordingly, as fellow stewards of the environment and the lake, we ask you to revisit your internal policies and further reduce the lake level today to avoid similar events in the spring," Roney wrote.
Copies of Roney's letter were sent to Skaneateles Village Mayor Marty Hubbard and to Skaneateles Lake Association member Fran Fish.
Jason Emerson is editor of the Skaneateles Press. He can be reached at editor@skaneatelespress.com.
Vote on this Story by clicking on the Icon