continued — Connor Irwin has been training in MMA for about a year and is disappointed the sport isn't legal in the state.
"It didn't even get a vote in the assembly," Irwin, 19, of Cicero, said. "It's a big industry. It's a big sport. It's probably the fastest growing sport in the world."
Earlier this year, the UFC beat its own attendance records with 55,000 people at one event, bringing in more than $12 million for a one-night event.
Supporters of the MMA industry say the sport would be a boost to the local and state economy.

"I'm no business man, but I definitely think it would bring revenue to the state," said Max Arevalo, 32, of Baldwinsville. Arevalo trains in Thai fighting, but would be interested in MMA fighting should it become legalized. Currently, the fighters travel out-of-state, something Arevalo doesn't have time to commit to.
"A lot of people want to compete, but it's tough to go out-of-state and travel," he said.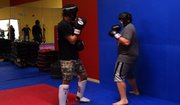 The sport also helps teach discipline, respect and allows for self-expression, something the UFC is advocating in the suit in federal court. The business claims the ban is a violation of the First Amendment, which is an extension of the freedom of expression.
"You can express yourself," said Brandon Culkin, 15, of Mattydale. "I wanted to get my frustrations out that I have in school. MMA really relaxes me and mellows me out."
Culkin has been training at the gym for about six months, but he hopes to continue with it. He says his grades at North Syracuse Junior High School have increased about 20 points since starting with the sport.
Boxing commissions and fans of boxing have expressed their support of the MMA ban, saying the sport would bring a direct hit to their industry.
Vote on this Story by clicking on the Icon