Cicero — A federal court could soon make a decision that would allow Jim Waldron to compete in his sport of choice in New York.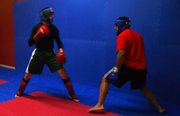 Waldron, 26, of Baldwinsville, is a competitive mixed martial arts fighter who travels out of state to compete, due to a ban in New York banning the sport from holding competitions or fights. But that ban is being challenged in federal court by Zuffa, the parent owner of the Ultimate Fighting Championship, or UFC. The suit, filed in mid-November, names the state's attorney general, Eric Schneiderman, claiming the ban on the sport is unconstitutional and a violation of the First Amendment. The suit requests an injunction be placed on the state of New York, preventing the state from enforcing the ban.
"You can't fight because of a state law? That's a waste of time," Waldron said. "It's just a matter of time, just like anything else. It's just typical New York."
A bill allowing for the sport in the state passed on the senate floor two years in a row, but stalled on the floor of the assembly. MMA allows for striking and grappling, while combining martial arts techniques from jiu-jitsu, muay Thai, kickboxing, boxing, karate, wrestling and other fighting styles. The bill would allow venue owners to book competitive fights in the state and would place a 8.5 percent tax on revenue at the box office for MMA events. It has been banned in New York since 1997.
Read the complaint
Check out the official complaint filed in federal court by Zuffa, the parent company of Ultimate Fighting Champtionship.
Waldron and other fighters at Curtis Tillman's Mixed Martial Arts studio, in Driver's Village, Cicero, are hoping the federal courts rule in favor of the fighters, in this renewed push to legalize the sport.
"I think it's a good thing that they're pushing it to that level, but it's kind of sad that it has to get to that point — to federal court," Waldron said.
(Continued on Next Page)
Prev Next
Vote on this Story by clicking on the Icon