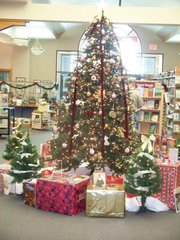 Baldwinsville — Enjoy the familiar tunes of winter and Christmas during the Baldwinsville Public Library's Songs of the Season Sing-Along.
This event, held at 7 p.m. Wednesday, Dec. 7, offers an opportunity for all who wish to sing carols, play winter song guessing games and enjoy a festive spread of Christmas cookies and (non-alcoholic) refreshments. The event will also feature pianist Ann Barnes, a popular piano performer throughout the region.
Holiday songs will include Christmas carols and popular songs such as "White Christmas," but also winter songs such as "Winter Wonderland" and wassails, songs that celebrate the winter feasts and were sung door-to-door by commoners in Britain, often hoping for a handout from the upper classes. Songs from other countries and traditions are included in the "winter song" canon including some Hannukah songs and "Santa Lucia" from Sweden.
Some who seek diversity may wonder why more warm-weather countries are not represented in the winter song repertoire, but there is a simple explanation: here in the U.S. we mostly stick to songs sung in English, and many non-European parts of the world do not experience the kind of winters that we do here in Central New York.
Singing is a great way to stay warm in the winter, and getting together with friends, food, and drink is another. Baldwinsville Library will combine the two at their Songs of the Season Sing-Along in the Baldwinsville Public Library Community Room, 33 E. Genesee St. in the village.
Vote on this Story by clicking on the Icon