DeWitt — The protesters charged with disorderly conduct in April after a "die-in" at Hancock Air Base were found guilty of disorderly conduct Thursday.
Hon. David Gideon, of DeWitt Town Court, ruled Dec. 1 that 30 of the 38 protesters were guilty of two counts of disorderly conduct. The other eight defendants plead guilty, or their cases were adjourned.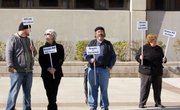 In April, the 38 protesters from Syracuse – but as far away as Honolulu, Hawaii – were charged with two counts of disorderly conduct after proceeding with a "die-in" at the main entrance to Hancock Air Base, in DeWitt. More than 300 protested the unmanned drones, which are being used in the war on terror overseas. Pilots of the drones train and work at the Hancock Air Base. The drones are often used to kill targeted members of terrorism groups, but the group protesting argues drones are used as "assassination" machines and innocent civilians often die in their attacks.
At the end of the protest, the 38 laid down in the driveway to participate in a "die-in," where the protesters laid down in "bloodied" clothing to symbolize those who die from drones overseas. Police arrested the protesters after they refused to comply with their order to disperse and for restricting vehicular or pedestrian traffic.
The dozens of defendants testified on their own behalf last month, in a trial lasting five days with more than 45 hours of testimony.
"I was not prepared to rule off the bench," Gideon said. "As a result, this trial experience has been very educational for this court."
The majority of the defendants were sentenced to 20 hours community service and fines. At least one defendant was taken into custody and ordered to serve three days because her actions appeared premeditated, Gideon said. Judy Bello, of Webster, near Rochester, will be held until Sunday.
Before the verdict was read, Bello said she was unsure of what would happen. The drones, she said, are what a "violation of international law" looks like.
Amanda Seef is an editor/reporter for Eagle Newspapers. She can be reached at aseef@eaglenewsonline.com
Vote on this Story by clicking on the Icon