continued — In addition, floral arrangements designed by Valerie Heath, Athenaeum case manager, chairs were borrowed from Grace Chapel Church and music borrowed from the Skaneateles Library.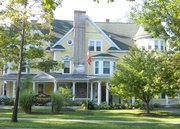 High school senior Katarina Kulik was the photographer.
On Aug. 20, all the residents of the Athenaeum – some with their family members – attended the wedding; and the bride and groom invited their own family and friends who otherwise would not have seen them get married.
At 11 a.m., Cioffa descended the mahogany stairs of the grand hallway and, to the sounds of Pachelbel's Canon, walked into the formal parlor, where Skaneateles Justice of the Peace Kathleen Dell performed the marriage ceremony.
Everyone then moved to the sun room for the brunch and cake.
"They did such a great job. We were both amazed — it was beautiful," Cioffa said. "They went through so much trouble, we just can't thank them enough."
"There were a lot of smiles going around that morning," Scarr said.
After the wedding, Cioffa and Miles did not take a honeymoon, although that may come later. Instead, they both returned to work to save money for the next big event: Cioffa is seven months pregnant. The baby is due in November.
Jason Emerson is editor of the Skaneateles Press. He can be reached at editor@skaneatelespress.com.
Vote on this Story by clicking on the Icon