Cicero — The residents of Brewerton will have to keep waiting for their revitalization project to come to fruition.
The project, which started in 2006 under then-Supervisor Chet Dudzinski, has yet to move beyond the planning phases. The town has received numerous grants for the proposal, which town and state officials have said will make the riverfront hamlet a tourist attraction, and, according to various sources, has expended anywhere from $435,000 to close to $900,000 of that money.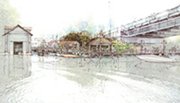 But so far, there's very little to show for it.
"Basically what happened was we're still forging ahead, but some of the things we have to do now should have been done in the beginning," said Supervisor Judy Boyke.
The major holdup at this point involves the Oneida and Onondaga nations and the New York State Historical Preservation Office (SHPO). The area along the riverfront in which much of the building is expected to take place, Boyke said, involves a "known archeological situation."
"Saratoga Associates is the group that took over the master plan and the design, so we're working with them and the Department of Transportation, which is in control of the grant from [Sen. Charles] Schumer [in the amount of $917,280]," Boyke said. "They have the final say on the acceptance of the plan. We have to present this plan to the nations and to SHPO, because they had not been involved before."
When they saw the plan, SHPO did a Phase 1-A, which Boyke described as a "drive-by" examination in which they checked to see if digging would be necessary. They determined it would, so they requested that the town do a Phase I-B involving digging and siftings for archeological evidence in the area to determine if any additional digging will need to be done.
"Now we have to wait for the findings, if any, from the Phase 1-B study," Boyke said. "Then the recommendation will come as to what the next step is with the park."
(Continued on Next Page)
Prev Next
Vote on this Story by clicking on the Icon