Baldwinsville — Nick Augello, 17, is a recent Baker High School graduate who left for Japan Aug. 20 to spend the school year in the Rotary Youth Exchange Program. He will reside in Kanazawa, which is on the west coast of Japan, and will attend high school beginning this month. Below is an excerpt from an email he sent after arriving in Kanazawa: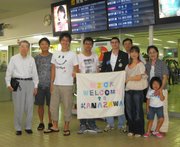 First, I'm fine, but definitely in "culture shock" mode. There isn't too much English to be found, though Riko (the daughter) and my host father speak a little. Often, I'll ask something in English, and they'll respond with the Japanese. It's working okay, especially since I learned a ton the first day.
As for the family, they're really nice and sweet, but there is definitely a break between us. I'm going to try to get through that break, but I know it shouldn't be on them to think in American mode, it should be me who thinks in Japanese mode. I've tried to be helpful and gracious, but I know I can do even more. The more language I learn, too, the easier it gets.
The father, Nobuyuki, or Bu-chan for short, is very funny. We were walking to a convenience store (konbini) and he was remarking how his wife is very strict, "the devil." I laughed and Riko assured me that she isn't really that bad. Honestly, I found both of them to be very nice. It's sometimes awkward when we're all in a room and nothing is being said. But again, it's only day two, so I'm not terribly worried it'll last forever.
We even watched a movie last night. We watched Tangled with Japanese subtitles (surprisingly not bad considering I fell asleep the first time I watched it). I told them they could reverse it, so it was the Japanese audio track with English subtitles, but they insisted, saying they enjoyed it more that way.
(Continued on Next Page)
Prev Next
Vote on this Story by clicking on the Icon