Cazenovia — Hunt Real Estate Corporation proudly announces the addition of Thomas Tait to their team at the Cazenovia office. Tait, a lifelong resident of Cazenovia, serves as a realtor and will cover Madison and Onondaga Counties.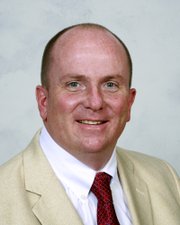 Professionally, Tait has served in a sales capacity for the past 21 years, the majority as a certified arborist with the F.A. Bartlett Tree Expert Company. "My detailed knowledge of Madison County and the eastern suburbs of Onondaga County provide me with an excellent background for the real estate profession," he said. "In addition, my solid understanding of building construction coupled with my lengthy career in the fields of landscape development and arboriculture allow me to provide my clients with a skill set that is vitally important in today's real estate market."
Since graduating from Nazareth College in 1990, Tait has served in an array of leadership capacities including village of Cazenovia trustee, chief of the Cazenovia Fire Department, president of the Madison County Fire Chiefs Association, member of the Town of Cazenovia Planning Board, president of the Cazenovia Rotary Club, president of the Cazenovia Civic Club and vice president of the Cazenovia Preservation Foundation.
Tait has also served on the Greater Cazenovia Area Chamber of Commerce Board of Directors, The Executive Committee of Cazenovia Area Planning project and founded the Village of Cazenovia Tree Commission. He received the Greater Syracuse "40 Under 40" Award, Madison County Firefighter of the Year Award, Cazenovia Preservation Association's Community Appreciation Award, Rotary International's Paul Harris Fellowship Award and Nazareth College's Outstanding Alumnus Award.
"My interest in the real estate profession dates back to the mid 1990's. I have always admired the idea of providing a caring, informative and diligent approach to clients who are buying or selling a home and for me now is the perfect time to joint Hunt Real Estate," Tait said. "In my personal and professional life I strive for quality in everything that I do. Those that know me know that loyalty is paramount. I am committed to serve those looking to buy or sell a home with a tireless work ethic, strong knowledge of the market and strict adherence to our Code of Ethics."
(Continued on Next Page)
Prev Next
Vote on this Story by clicking on the Icon