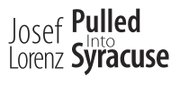 SYRACUSE — A sunny summer afternoon called for lunch at Darwin, a quaint and tiny deli tucked away on Clinton Street just north of Clinton Square. The restaurant springs out of the mind of Terry Riley, owner of Riley's on Park Street, and has been serving up gourmet sandwiches to weekday downtown lunch-goers since opening in the spring of 2010.
Darwin's menu is simple, smart, and borrows influences from New York, Chicago, California, and New Orleans, to name a few places. The ingredients are homegrown, homemade and cleverly incorporated from other local business such as DiLauro's Bakery, Pasta's Daily Bread, and Liehs & Steigerwald. On this particular visit, sandwiches included the "Pork Cubano," with ham and shredded pork served with mustard and dill pickles, the "Midnight Train to Georgia," with sliced prime rib, red onions, and horseradish mayo, and the "Ships Passing in the Night," a veggie sandwich consisting of marinated portobellos, mozzarella, parmesan, onions, spinach, basil, tomato, and finished with a creamy balsamic dressing. Soups, salads, sides, as well as fried haddock on Fridays, round out the rest of the lunch offerings. The menu evolves and changes each week so a helpful tip is to check their website for updates at darwinonclinton.com.
The interior is small yet cozy and clean. There's enough room to eat inside at the butcher-block counter by the window (a wonderful touch to the decor), but the tree-lined street provided enough shade to enjoy a meal at one of the outdoor tables.
The order
NYC lobster roll: $11
Roasted red pepper bisque: $3
Chocolate chip cookie: $2
Total spent with tax and tip: $17.28
On a previous visit, the "Pineapple Express" ($8) proved to be a delicious Cajun-dusted chicken breast sandwich topped with melted provolone, fresh baby spinach, pineapple salsa, and chili sauce and tucked between Pasta's stretch bread. The combination of tender chicken, tangy pineapples, and a pinch of chili, gave it a pleasantly sweet, fiery, and Asian-inspired taste.
(Continued on Next Page)
Prev Next
Vote on this Story by clicking on the Icon