Baldwinsville — Bruce Craig appreciates the dedication of his new congregation.
"They are serious about the Christian life," said the new pastor at Baldwinsville's Temple Baptist Church.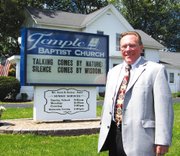 Prior to moving to Baldwinsville, Craig served as pastor to churches in Minnesota, Pennsylvania and Penfield, NY, where he acquired more than 36 years of experience. He moved here in January to replace Temple Baptist's retiring pastor Aaron Overton, who served the church for 32 years.
"[Overton] wanted me to replace him here and, after consideration, I accepted," Craig said.
While Craig was new as pastor of the congregation, it wasn't his first encounter with the church. Over the years, he has ministered to Temple Baptist on special occasions and has also attended an annual Pastors fellowship meeting held by the church.
As the new pastor, one of Craig's initial goals is to develop programs to meet more community needs. His inaugural program, which begins Monday, Sept. 19, is called Grief Share, which is open to the entire community.
"It is a 13-week support group designed to help meet the needs of those who are on their journey through the grieving process," Craig said.
The program meets at 6:45 p.m. weekly at the church and is open to the public. Registration is required, and a small donation requested. For more information about the program, call 638-1159 or (585) 545-8398. Temple Baptist is located at 2295 Downer Street Road in Baldwinsville.
Erin Wisneski is the editor of the Baldwinsville Messenger. To contact her, email editor@baldwinsvillemessenger.com.
Vote on this Story by clicking on the Icon