Baldwinsville — Sunday began grey and wet. As rain and thunder rolled in, there was concern about cancellation of the 8th annual Upstate Chiropractic Beaver Lake Run.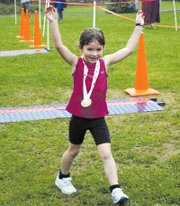 Steven Pfanewstiel, the run coordinator, was also worried the weather might negatively impact the turnout. His concern proved unnecessary, however, as the only thing the effected was the runners' times. The turnout was impressive with 102 pre-registered runners, and more than 50 additional runners registered the morning of Aug. 21 at Beaver Lake Nature Center.
As the runners arrived, registered and warmed up, Pfanewstiel and his wife, Karen, set up drinks and healthy snacks for participants. There were generous donations of bagels from Panera and huge baskets of apples from Abbott's Farms. Fleet Feet provided advertisement, gifts and prizes.
In Baldwinsville, the whole community and local businesses are renowned for pitching in and working together. Upstate Chiropractic led the way in this instance, especially Dr. Eric Croucher who is key to the event.
"It just wouldn't happen without him," Pfanewstiel said.
Croucher was proud that this was the event's eighth year and would take no credit for its success. Instead, he praised the "excellent organization and group of volunteers" for making the event possible.
While Croucher said they never had weather issues before, he still thought it was a great day for the run.
"Running in the rain is fun," he said.
And, due to the many outstanding volunteers helping this year, Croucher was able to put on his running shoes and enjoy the run for the first time.
The rain and thunder did cause a slight delay; wet conditions made for slippery footwork on the boardwalk areas of the trails, which slowed some participants down.
Kicking off the event was the Youth Run held at the Pine Meadow Trail. At the start, participating children took off into the woods for the half-mile run and emerged a few minutes later sprinting to the finish line. First and second flew by the finish line, followed by a very proud 5-year-old Jessica Cordon, who crossed the finish line and grabbed third place (5:24). Throwing up her arms in victory, she caught a quick breath and proudly showed off her medal.
(Continued on Next Page)
Prev Next
Vote on this Story by clicking on the Icon