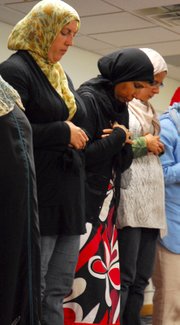 continued — Less than an hour before sunset, guests and hosts chat in small circles while they wait for the program to begin. The Imam, Yaser Alkhooly, soon arrives to lead a question-answer session. He is dressed in a long straight traditional thobe that falls from his neck to his leather sandals. He wears a short-trimmed beard and an inward smile. 
Guests are encouraged to ask their questions about Ramadan, Islam or the Muslim community. To protect anonymity and encourage openness, questions are written on index cards and read aloud by a moderator.
"You have many different countries represented in your community. Do you always get along?" one card reads. 
The imam grins through a long pause before answering. 
"We are human, after all." 
The room chuckles at his restraint. 
Visitors are curious about fasting. What if you are unable to fast? Imam Yalkhooly explains that those unable to fast can fulfill the obligation by feeding one needy person for one day to make up for each day he or she is unable to fast. 
"For example", he tells us, "one of the companions of the prophet Mohammed, peace be upon him, was very old and could not fast. So at the end of Ramadan, he would cook a feast and invite 30 needy people to his house to eat to make up for the whole month of Ramadan."
On this night, at exactly 8:06 p.m. the call to pray is recited over a microphone. 
"Allahu akbar, Allahu akbar," it begins. Dates and water are passed around and their sweet crystalline meat is savored equally by those breaking their fast and visitors. "I'd come back just for the dates," one woman tells her friend. 
Guests are invited to observe the sunset prayer, maghrib salah. Women and men file separately from the community room to their respective prayer halls. 
Vote on this Story by clicking on the Icon