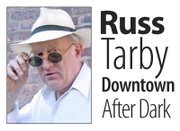 SYRACUSE — It was Feb. 2, in the middle of the Syracuse Symphony's Orchestra's unsuccessful attempt to raise $1.7 million to save its 50th anniversary season.
Our headline said it all: "SU should save SSO!"
Now, six months later, that's exactly what's happening.
Former SSO executive director Jeff Comanici — now an assistant dean for advancement at Syracuse University's College of Visual and Performing Arts — plans to establish the Syracuse Philharmonic Society as part of SU's new Center for Live Music in the 20th Century.
The center will be helmed by Patrick Jones, recently named director of SU's Setnor School of Music. Jones arrived here from Boston University where he chaired the music education department.
SU can certainly afford the orchestral undertaking. The university is Syracuse's wealthiest and most culturally concerned institution, boasting endowment assets worth $1,031.6 million, according to Bloomberg Businessweek.
That's $1 billion plus $31 million!
Before it went belly up on May 10, the SSO's annual budget is about $7 million, a mere drop in SU's golden bucket.
Syracuse Phil
Former SSO Musical Director Dan Hege, who was appointed in May 2010 as a professor of practice at SU's College of Visual and Performing Arts, will serve as the philharmonic's artistic manager and primary conductor.
Comanici estimates that it will take five years to get the Syracuse Phil up and running at the same speed and efficiency as the old SSO, which was considered one of the top 50 orchestras in the country.
As did the SSO, the Syracuse Phil will perform most of its concerts at the Mulroy Civic Center, downtown at 411 Montgomery St. A handful of pops concerts will be staged at the Landmark Theatre, also downtown at 362 S. Salina St.
In the spring of 2010, the foundation was laid for the Syracuse Phil when SU and the SSO expanded their partnership, an agreement which included the Hege appointment.
Russ Tarby's column appears weekly in The Eagle and online at theeaglecny.com. He also covers the arts and sports. Reach him at russtarby@netscape.net.
(Continued on Next Page)
Prev Next
Vote on this Story by clicking on the Icon