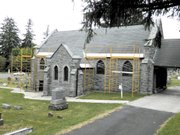 Skaneateles — A small but excited crowd turned out Thursday morning, Aug. 18, at Lake View Cemetery for the dedication of the renovated roof on Burrows Chapel.
The roof, which was leaking and causing structural damage due to weather and age, now has a synthetic slate covering expected to last about 100 years.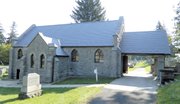 The project came to fruition through the donations of time, materials and labor from two companies with local ties and local officials intent on seeing the project completed despite an initial lack of contractor bids.
"I'm always touched by the caring and generosity of our citizens," said Mayor Marty Hubbard in his dedication speech, in which he gave a brief history of the project and recognized numerous individuals and organizations who contributed to renovation.
In early spring of this year, Village Historian Pat Blacker told the village board that the chapel, which was built in 1926, needed repairs in the roof due to its age and the harsh winter weather it has endured through the years. The board earmarked $20,000 for repairs and in June put out a call for contractor bids, which netted no interest.
Blackler then approached local resident Bob Neumann, who is CEO and co-owner of Erie Materials roofing supply company in Syracuse, to ask for his assistance.
"I knew the budget was $20,000 and I knew this was not gonna fly for that price. My son and I like to give back to the community and we thought this was a good way we could help out," Neumann said.
So he put out the word and called in favors to local contractors he knew to find a company that would do a quality job at the right price.
They found C.J. Marley Construction out of Marcellus who put in a bid within the village's budget limits.
(Continued on Next Page)
Prev Next
Vote on this Story by clicking on the Icon