Cazenovia — On Friday, Aug. 19, the Cazenovia Area Community Development Association will host "Barn & Fork: A Celebration of Community Investment," and have invited the many residents of Cazenovia to join in on the festivities.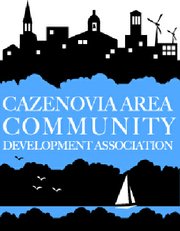 The special evening begins at 5:30 p.m. at Lorenzo State Historic Site, in cooperation with the New York State Office of Parks, Recreation and Historic Preservation: Central Region. Activities include a presentation to honor Bob and Bobbie Constable, with our first Community Investment Award, a brief history of the carriage collection and a chance to stroll through the gardens and visitor center. Refreshments will also be served.
The main event takes place at Carpenter's Barn from 7 to 9:30 p.m. and features delicious local food and drink, live music and a silent auction.
Guests will have a unique opportunity to sample pourings from three local beverage purveyors - Empire Brewery, Harvest Moon Cidery at Critz Farms and Owera Vineyards. Enjoy an evening by the lake and help us celebrate how investment in the community can really make a positive difference.
Barn & Fork is open to the public. Tickets are $100 per person for the main event and $40 per person for the VIP gathering. Contact us soon to reserve your place.
Call 655-7651 or e-mail director@cacda.net or assistant@cacda.net. Payments can be mail to CACDA, 95 Albany Street, Cazenovia, NY 13035.
CACDA enhances economic vitality and preserves the rural, historic character of our region through education, consensus-building and project implementation. Individuals and corporations can support CACDA's programs through contributions and volunteer efforts.
We are still accepting sponsorships, and thank all our terrific sponsors to date. Silver: Betsy Powers – Sagemark Consulting/Lincoln Financial Advisors and Oneida Savings Bank. Bronze: Johnson Brothers Lumber, Oneida Limited, Pelco Component Technologies, and Pro-Tel People/Pro-Tel EF&I Services. Special thanks to Cazenovia College, Canastota Publishing Company, Morris Tent, Steff and Barb Wolff, as well as Nancy and Jim Asher.
Vote on this Story by clicking on the Icon