Baldwinsville — Despite a heartbreaking decision earlier this summer, the YMCA has decided to push forward with building a Northwest Y.
The Baldwinsville YMCA Board of Managers has met twice since the June 20 decision, in which Lysander Planning Board officials said the proposed Y would negatively impact the character of the Radisson community considering the current size and scope of the plans for the proposed facility at the corner of Route 31 and Drakes Landing.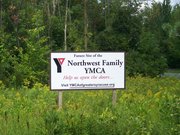 "Unfortunately, the planning board set us back," said Cindy Dowd Greene, chair of the Baldwinsville YMCA Board of Managers, adding that they don't intend to sue, nor do they want to fight with the town.
Instead, the board will form a committee to review alternate sites for the proposed 98,000 square-foot facility.
"We want to see what else is out there. People want to move forward," she said.
While Dowd Greene would not elaborate on the specific locations, she did say there were 16 sites the committee was considering within the towns of Lysander, Van Buren, Clay and Geddes that meet criteria such as sufficient acreage, optimal location and existing or potential infrastructure. She also said the committee is open to viewing other sites in those areas.
"People are absolutely energized to move forward. It's more work, but we want to bring a Y to the community, and we've heard from a lot of people, too, who agree," she said. "The northwest corner of the county's desire for a Y remains the same.
When asked about the existing site on Drake's Landing in Radisson, Dowd Greene said that location is still a "possibility, but only if the planning board dramatically changes its decision." Other than that, no decisions have been made on what the Y would do with the property at Drake's Landing.
Dowd Green said she hopes the committee will have a site decision by year's end, or early next year.
"We are going to build a Y, and we want to do it sooner than later," she said.
Erin Wisneski is the editor of the Baldwinsville Messenger. To contact her, email editor@baldwinsvillemessenger.com.
Vote on this Story by clicking on the Icon