Camillus — This Thursday, Aug. 18, Linda Erb, of Camillus and owner of Ohgoodygoody.com will be hosting an event at Rosalie's in Skaneateles.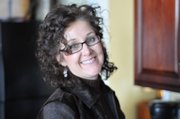 Oh, Goody, Goody is unique, offering customized gift certificates online and a smart, easy way to send a personalized message to friends or family looking to receive a gift card from their favorite restaurant, winery or gourmet shop. It's as easy as a click of the mouse. Merchants allow Erb to put a button on their website that is a direct link to buy their gift certificates through Ohgoodygoody.com.
"Every year we try to a few of these wine dinners," Erb said. "We try to have about 45 people at the event and just get people acquainted with Oh, Goody,Goody and how we do business."
Erb's concept of Oh, Goody, Goody has been in the works for quite some time now, it was just about execution and finding the right time to follow through on her business venture.
"My husband and I started Oh, Goody, Goody about four years ago," Erb said, "but didn't open until June of last summer. It took three years to get it up and running. It was a very complicated system."
Born in Dansville, N.Y., Erb's love of family and The Finger Lakes Region brought her home to Central New York from Alexandria, VA., in 2001.
"When I came back there were so many independently owned businesses," Erb said. "In order to add a little bit to their bottom line, I thought it would profit them if they sold online. It's very hard to buy independently owned business' gift certificates online. "
Erb took notice of the trend almost immediately and the wheels started churning.

"There is so much online shopping going on right now" she said, "almost 80 percent of the country is doing this. If you can go online and buy an olive garden card online, why can't you go online and buy a Rosalie's gift certificate?"
(Continued on Next Page)
Prev Next
Vote on this Story by clicking on the Icon