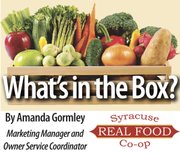 SYRACUSE — Community Supported Agriculture (CSA) is a socio-economic model that allows people to buy food direct from farmers. Customers pay for a yearly 'share' of the farm's crops, and collect a weekly harvest prepared by the farmer. Amanda Gormley, marketing and member/owner service coordinator at the Syracuse Real Food Cooperative, brings you this guide to CSA's most baffling offerings.
This week: Edible flowers.
Many Central New York CSA farms offer the opportunity to come onto the farm and pick your own flowers and herbs. Did you know many of the flowers you'll find on the farm, and in your back yard, are edible?
Obvious petaled edibles are those that bloom from herb plants. The basil flower, for example, is a milder version of the corresponding leaf. Basil flowers on the stem make a beautiful stir stick for iced tea. Remove the flowers from their stems and they become a stunning garnish for pesto dishes. Thyme, chive, and mint flowers are also edible petals that taste similar to their herbs.
Edible flowers vary from sweet to savory to bitter. Calendula, bachelor button, and nasturtium are all common flowers with savory palette appeal.
The bright yellow-orange calendula flower is sometimes called "poor man's saffron" because it so closely resembles the elegantly, light flavor and golden yellow color of saffron. Calendula petals add a light and tangy, nearly peppery flavor and bright, sunny color to rice dishes like paella. It's also a good ingredient for soups and bisques.
Bachelor button have a very mild spice, almost clove-like flavor. They're spiky petals make for a fun garnish on cupcakes or cheese platters.

Nasturtium buds can be pickled and used like capers in seafood recipes. Raw nasturtium petals have a wonderfully spicy bite, and are delicious on sandwiches or fresh salads.
Bitter flowers like snapdragon, marigold, bee balm, and hibiscus can be served raw in salads, as a garnish on vegetable or cheese platters, or steeped in tea. Who needs Blooming Tea when you can use blooms from your own back yard?
Violet, chamomile, and daylilies are slightly sweet edible flowers that can be used to decorate a cake, added to fresh salad, or to garnish cool summer drinks.
Note: people with allergies should avoid edible flowers. Remove stems and pollen before consumption.
Vote on this Story by clicking on the Icon