Baldwinsville — Mary Beth Cavalieri's third-grade students at Elden Elementary School received a special visitor June 19.
Derrick Taylor, a Baldwinsville native and a 2010 graduate of Baker High School, spent the last year studying in Taiwan as a Rotary Exchange Student, and had been webcaming Mrs. Cavalieri's class while he was in Taiwan to offer the third graders a more in-depth and personal view of Taiwan.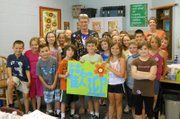 While studying the country of Taiwan, Cavalieri's students formulated questions for Taylor, working in groups of three. They each took turns standing in front of the webcam to ask Taylor questions. They watched him on a screen in front of the classroom, and he could see them on his computer monitor in Taiwan. There is a 13-hour time difference, so when the kids spoke with Taylor at 10 a.m., it was 11 p.m. in Taiwan.
On June 19, the third graders finally got to meet Taylor in person.
Taylor showed a slide show of his travels and experiences in Taiwan, taught the kids a little Chinese and answered more questions from the eager students. Taylor brought back Taiwanese cookies to share with the class and gave each student a pin that he gives out to other exchange students. Taylor will be attending American University in Washington, D.C. in the fall. He is studying international relations.
Vote on this Story by clicking on the Icon