Baldwinsville — Three people were hospitalized after a crash in Van Buren.
Sheriff's Deputies and emergency vehicles responded to the intersection of Downer Street and East Sorrell Hill Road around 9 a.m. Friday, Aug. 12 where a two vehicle collision had occurred. Michele Walters, 50, of 35 Buccaneer Bend in Harbor Heights, was driving a 2006 Chrysler 300 East along Route 31 when she t-boned a 2000 Dodge Caravan operated by Keith Conger, 52, of 48 East Oneida St., Baldwinsville.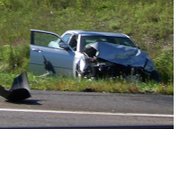 Witnesses said Conger was exiting Route 690 south at the Downer Street exit and drove through the stop sign at the end of the off ramp. Appearing as if he was suffering from a medical condition, Conger drove straight through the intersection.
Rescue crews from the Baldwinsville Fire Department responded to the scene and extricated Conger from the wreckage. Conger, who was not wearing a seatbelt, sustained life threatening injuries and was transported by ambulance to University Hospital.
Walters, along with her 12-year-old son, Mark, suffered minor injuries and were also transported by ambulance to University Hospital.
The Sheriff's Accident Investigation Team will continue the investigation.
Speed reduction requests denied
After hearing about Friday morning's accident, Dave Smith, a resident of Harbor Heights, said with all the additional development and increased traffic in the immediate area, it is necessary to lower the speed limit. Either that, or install a traffic light at the intersection, he said.
"The speed along that stretch from 690 to West Dead Creek Road needs to be lowered to 40 mph," Smith said.
In recent years, Van Buren officials have submitted three separate speed reduction requests to the New York State Department of Transportation regarding the road where Friday's accident occurred.
Each time, officials requested a reduction in speed from 55 mph to 40 mph for the stretch of road from Downer Street Road and Route 31 between the village and town border to the caution light past Harbor Heights. The last request was made with the support of Onondaga County.
Each time NYSDOT has denied the request.
Vote on this Story by clicking on the Icon