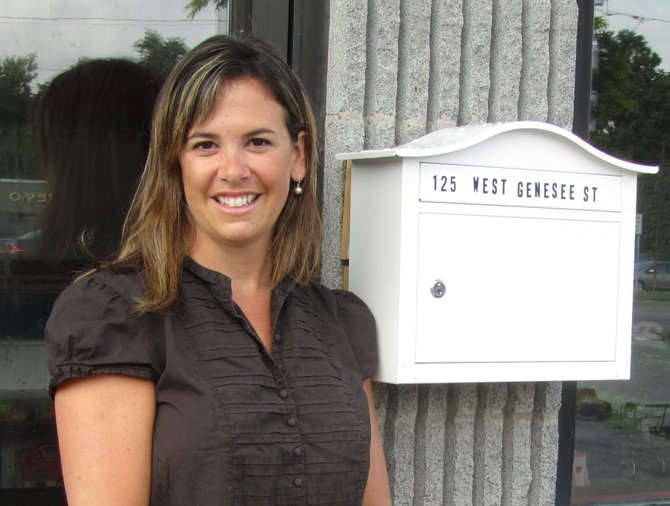 As a stay-at-home mom, Mary Ellen Jordan imagined a childcare center that could accommodate the full-time parent. About a decade later, the Manlius mother of three has opened Daytime Playtime in Fayetteville — which she hopes will do just that.
"I have been thinking about a service like this for a decade now, ever since mine were little," said Jordan, whose kids are now 8, 11 and 13. "I loved being a stay-at-home mom, but sometimes needed a few hours to get things done without my children. I waited for my children to all be in school before I started the process."
Jordan said the childcare center, located at 125 W. Genesee St. in Fayetteville, is the first of its kind in Central New York. She calls it "drop-in childcare."
"[Daytime Playtime is] very different from regular daycare: it is a drop-in center geared towards non-working parents," Jordan said. "If a parent wants to shop without their young children, then they can leave them with me without even a reservation. Perhaps they have a doctor's appointment, or want to go for a long run or bike ride. I'm there for them. Maybe they just want to have a lunch with a friend; I'm there to fulfill their childcare needs, in a very flexible and affordable way."
Jordan said she chose to open her business in Fayetteville because of all the shopping nearby, "and F-M has many stay-at-home parents."
Children ages 1 to 5 can spend up to three hours per day at Daytime Playtime with no reservation required. The center had a soft opening Monday, Aug. 8, and has grand opening festivities and specials planned for 9 a.m. to 4 p.m. Monday, Aug. 15.
Before being a mom, Jordan taught elementary school for five years in the Syracuse, Chicago and New York City school districts. She has a Master of Science in elementary education from Syracuse University and a Bachelor of Arts from Rutgers University.
Jordan said while her childcare center is about fun and unstructured play, she will offer age-appropriate learning activities to children who are interested. Daytime Playtime will also be free of TVs or computers.
"It will be a place that fosters creativity and imaginary play," she said.
Jordan plans to hire a handful of employees, with one being full-time. She said potential hires include either retired teachers or stay-at-home moms with teaching degrees.
For more information, call Jordan at 382-0348, go to daytimeplaytimecny.com or find Daytime Playtime on Facebook.
Vote on this Story by clicking on the Icon