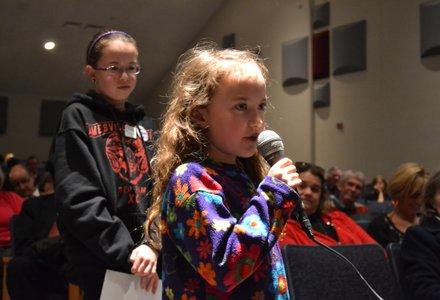 Fri

Sat

Sun

Mon

Tue

Latest stories

CNY community voices its opinion at forum with State Education Commissioner
For the second time this school year, New York State Education Commissioner Dr. John King paid a visit to the Fayetteville-Manlius School District. But instead of observing classrooms and speaking with administrators, this time King faced a crowd of around 200 people, composed mainly of frustrated parents, teachers and students.
What exactly are the 'Planet Aid' boxes?
Gold is a color associated with autumn, school buses, and cautionary road signs. Recently my friends and I have puzzled over the gold bins for clothing collection appearing at three sites in Manlius and two in Fayetteville. The bins are not associated with local offices of the Rescue Mission or the Salvation Army, or any other local organization.
Helping others around the holidays doesn't have to mean breaking the bank. It can be as simple as cleaning out your linen closet or picking up some extra pet food. Joelle Litz of Liverpool is conducting a donation drive for the Humane Association of CNY and the CNY SPCA from now until Dec. 22. Both shelters are always in need of supplies (see the sidebar for their wish lists), and Litz said every little bit counts.

ChronicleMe allows people to post secrets, funny stories anonymously
Anthony Richichi launched his social media website ChronicleMe (chronicleme.com) in October. The site allows users to anonymously post personal secrets in a safe environment.
The holidays are upon us once again and we're here to help. Whether you're looking to celebrate or escape the madness, we have the resources you need.
The town of Cicero has been very busy making improvements to Riverfront Park, located on the Oneida River in the hamlet of Brewerton
On Nov. 25, the Cicero Town Board unanimously passed a modification to Local Law 152-4c, which deals with brining dangerous instruments into a town park. Although this issue did result in lively debate by some of the residents present, I strongly support the board's decision. Much of the concern by some of the residents was the wording and definition of "dangerous instruments capable of causing physical harm." I would like to explain the purpose of this amendment and how the police department intends on enforcing this local law. I believe that there are some misconceptions on its intent and perceived abuse.
Public hearing set for Jan. 6
East Syracuse Trustee Jim Carr has made three motions at three different board meetings this year to hold a public hearing to discuss the abolishment of the East Syracuse Police Department, and that motion failed each time. But the fourth time was the charm for Carr, and at the board's Dec. 2 meeting, the motion passed by a vote of 3 – 2. It was Mayor Robert Tackman's vote that decided the outcome.

Most people in Cazenovia know Kurt Wheeler as the mayor, as a high school teacher, as head of Project Café and as a U.S. Marine Corps colonel. What people may not know is that Wheeler is also a writer, editor and historian and his second book, "Pathbreakers: U.S. Marine African American Officers in the Their Own Words," was published earlier this year by the U.S. Marine Corps History Division.
Ethan Bramoff went into the Target in Cicero the morning of Sunday, Dec. 1, with a $100 gift card, a list and a mission: to purchase Christmas gifts for everyone in his family. "Usually I go with my mom and dad," said Ethan, 6, a first-grader in Mrs. McAvoy's class at Cicero Elementary, "and I get everything with them." But this year, Ethan had a different shopping buddy: Cicero Police Officer John Fortino.
In a couple of years, about a quarter of Liverpool's students will attend a different school than they do now. At its Dec. 2 meeting, the Liverpool Central School District Board of Education voted to go ahead with redistricting. However, it won't happen as soon as originally planned. "The board talked at length about the implementation date of September of 2014," BOE President Patricia DeBona-Rosier said. "That date is fast approaching. Because we want to make sure this is done thoroughly and done well and we want to have sufficient time to make everyone informed, the board has come to a consensus. That consensus is that we will hold off on implementing this until the fall of 2015."
Cazenovia's 36th Annual Christmas Walk will begin at 5:30 p.m. in the downtown area this Friday, Dec. 6. Downtown merchants' shops will be open for business, not-for-profit vendors will line the streets, the Cazenovia Community Band will play along Albany Street throughout the evening and the international gift bringers will circulate the streets spreading good wishes and good cheer.

Seasonal beer offered exclusively at Sherwood Inn in Skaneateles – Cazenovia-exclusive beer coming next year
Empire Brewing Company's holiday seasonal beer, Dickens Christmas Ale, made exclusively to be sold in Skaneateles during its "Dickens Christmas" celebrations, was so popular in its inaugural year in 2012 that Empire is offering it again this year — and the beer-maker is already planning to create a Cazenovia-exclusive holiday beer in 2014 once the new Farmstead Brewery is built on Rippleton Road.
The New Woodstock Free Library annual volunteer recognition celebration will be held from 10 a.m. to noon Saturday, Dec. 7, at the library, 2106 Main Street (Route 13). The opening of the annual Cazenovia schools student art exhibit will coincide with the volunteer event.